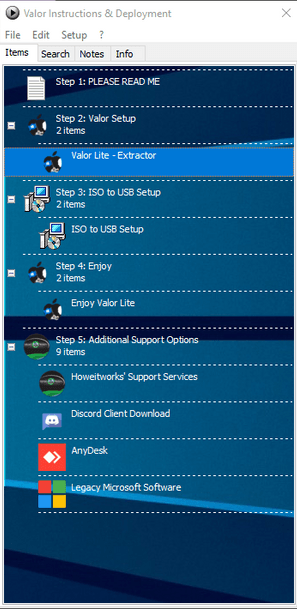 Valor & Valor Lite USB & ISO Mounting Setup Tutorial
Valor & Valor Lite Deployment Tutorial
Donations are greatly appreciated!
VALOR

&

VALOR LITE


"A Script to Install DSDT Patch & Modified Drivers for Bootcamps" (Windows 7-11 in EFI / GPT)



Valor Script: A Frankin-Mac Project
DSDT Patch to Enable Audio Drivers in EFI Installed Version of Windows 10, Blue Screen Of Death Fix, and more.
ALL THANKS GOES TO TGIK AND itayemi's METHODS! TGIK IS DA MAN! TGIK APPLE FOURM: https://discussions.apple.com/thread/250137979 AND itayemi's Windows Method (This without the script or drivers) (How to do this manually):http://www.itayemi.com/blog/2019/09/12/dual-booting-mac-osx-and-windows-on-macbookpro/ -THANKS AGAIN itayemi!

TGIK provided the full Mac/Clover bootloader version of creating and executing the DSDT patch, while itayemi provided a Windows alternative of creating and executing the DSDT patch. I'm the guy who took the two and made a script for Windows and added other needed and useful tools that is needed to make Windows 10 ver 1903 and higher to be compatible. This is the safest way without mistakenly bricking your MacBook and ruining your firmware. This is mainly targeted to MacBook Pro Early 2011 "13" inch models aka MacBookPro8,1 but it does work on other MacBook Pros after testing.

I'M NOT RESPONSIBLE FOR ANY DAMAGES CAUSED TO YOUR MAC OR PC (NOT MEAN'T FOR PC USERS). IT IS THE USERS RESPONSIBILITY TO MAINTAIN BOOTCAMP PARTITION AND REFORMAT WINDOWS IF DONE INCORRECTLY. SO IF YOU DON'T UNDERSTAND THESE TERMS DO NOT CONTINUE!!!!
Welcome to Valor! (2021 Update: Valor & Valor Lite is patched to work on multiple models of MacBook Pros, stable to run on newer versions of Windows 10. I have also update the layout of the program and compatibility for Windows 8.1.
Thanks for being here and giving this a spin!
This is a script that will install a DSDT file to make your audio drivers work for your MacBook Pro Early 2011 in EFI mode. This is means if you want to install multiple Windows Partitions you can in EFI and you are no longer dependent on the DVD Rom. Tested and working on Mid 2011 and Late 2011 Macbooks, please provide feedback through my discord if there are any issues on other models. BootCamp drivers downloaded and changed as of 10/23/2019. The modifications are MacHaldriver.sys has been completely removed and instead installs a MacHaldriver.inf to avoid Blue Screen Of Death with Windows 10 ver. 1903 or higher because of incompatibility.
Please look into the Script Directory and Resources\Installers Directory to look over what will be installed or offered to be installed as you go through the script! Thanks again I hope you enjoy!
Valor & Valor Lite 2020 Christmas Update
Valor & Valor Lite 2021 Halloween Follow-Up